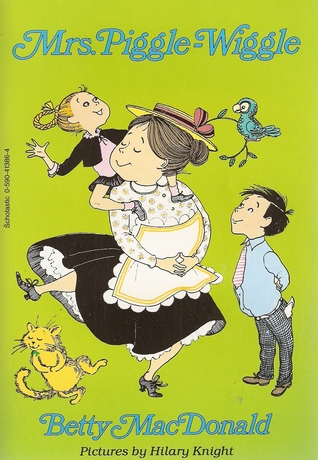 All of the Mrs. Piggle Wiggle stories hold fond memories for me. I was first introduced to these books by my fourth grade teacher. She spent many days reading the stories to us in our classroom. I remember that they always had a lesson that needed to be understood and they always made me laugh. I enjoyed Mrs. Piggle Wiggle and all of the kids and their many adventures. I like to read these stories to my classes and my own children. These hold an even more special place in my heart as my beloved teacher recently passed away. I can never see Betty MacDonald's books without thinking of Miss Betz.
Monday Memories
is a weekly feature hosted by
Miss Print
and
the Book Bandit
. Just take a photo of a book from your personal library (or a library book that's significant to you, etc.) and talk about why it matters. Is it your first ever signed book? The first book you reviewed on your blog? Whatever it is, write it up in a
Monday Memories
post and share it. Just please link back if you decide to join!